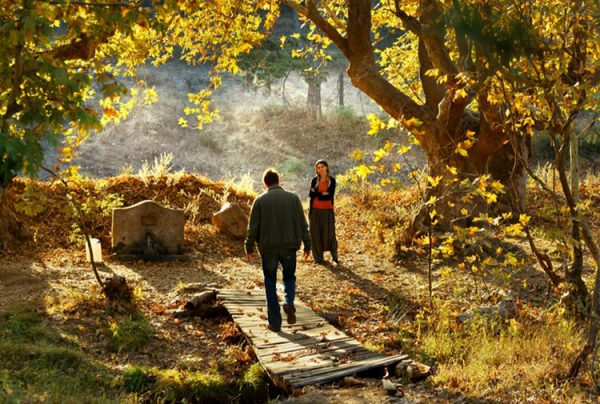 My previous article contained some introductory information on the title and setting of Nuri Bilge Ceylan's new film, Ahlat Ağacı. Now I want to turn to the film's contents.
Ceylan's film begins like a Turkish riff on The Graduate, with the main character, Sinan Karasu (his surname means "Blackwater"), returning home after finishing his BA. But unlike Dustin Hoffman's Benjamin Braddock, Doğu Demirkol's Sinan isn't a rich kid returning to his affluent 1960s Los Angeles suburb by jet after finishing a private college BA. Neither is he greeted by neighborhood dinner parties where he receives investment advice ("Just one word: plastics"). Nor does he end up in bed with a "desperate housewife." The only similarity between Benjamin and Sinan is their befuddlement.
Instead, Sinan's university is 18th March University in Çanakkale, a small city on the Dardanelles in Turkey's northwestern edge, and his hometown is the small industrial mining town of Çan, an hour east by bus over the Kayacı Mountains. After arriving, we're introduced to Sinan's family, and then his father İdris takes him to the family's village home in the vicinity of Çan. There, his father and grandfather need his help to hoist a small boulder out of a well that İdris has dug to find a source of water. The well is next to a cottage that İdris appears to have constructed on a hillside above their village. Just as their problem stone clears the top of the well, the rope they've tied around it is cut through by a sharp edge, and the rock crashes back down to the bottom. This serves as a metaphor for what will unfold over the next three hours – it's not exactly the myth of Sisyphus, but something close to it.
The father-son relationship (not only between Sinan and his father İdris, but also between İdris and his father Ramazan) that the film centers on immediately suggests Ivan Turgenev's Fathers and Sons, and Ceylan is known for his references to Russian writers as well as to Soviet filmmakers like Andrei Tarkovsky. However, the relationship between Sinan and his father is not really that between Arkady and Nikolai Kirsanov, and Ceylan's film does not dwell much on generational differences (although there are some elements of that). Turgenev's great novel also begins with Arkady returning to the provinces after graduating from university, but no character in Ahlat Ağacı even remotely resembles Arkady's nihilist friend Bazarov. The film is not an essay on Turkey's revolutionary or radical materialist youth. Instead, it focuses on the characters' psychology in the manner of Dostoevsky and Chekhov.
After Sinan's first attempt to find money to publish his novel, he encounters a young woman, Hatice, whom he had previously known. The scene takes place near a field where Hatice is working, and occurs when Sinan walks by as she is filling water jugs from a rural type of water fountain found in many places in Anatolia. The field is in a hilly, forested area outside Çan. After exchanging greetings, as well as their surprise that neither has changed much during the years when they haven't seen each other, Hatice asks Sinan for a cigarette, and then removes her village-style headscarf.
The encounter between Sinan and Hatice sets the stage for the profound character analyses that we witness throughout the rest of the film. Before Hatice entices Sinan to kiss her, Ceylan employs Akira Kurosawa's classic Rashomon technique in a sequence of remarkable aesthetic purity, turning the camera onto the sun through obscuring, wind-rustled leaves and Hatice's flowing hair to emphasize the characters' confused, tumultuous minds and hearts. That scene alone has enough content for a typical Hollywood film, but Ceylan is only getting started.
In Turkish social media, much of the discussion about Ahlat Ağacı has focused on the film's lengthy dialogues. Ceylan's previous film, Kış Uykusu (Hibernation) also had long dialogue scenes, but the Turkish media discussion was unfortunately (and typically) sidetracked by something totally unrelated to the film's content and importance: whether any of the horses featured in the film were abused. I haven't encountered any Turkish-language analyses of Kış Uykusu which looked closely at the extended conversations between Aydın and his young wife Nihal, or between Aydın and his sister Necla, even though those conversations play a vital role. A series of conversations between Aydın and Nihal that stretch over twenty minutes of the film's second half is especially comparable to the conversations in Ahlat Ağacı.
From that perspective, the critical focus on Ahlat Ağacı's dialogues is somewhat new and welcome. Two dialogues struck me as particularly memorable. The first is the cell phone conversation that Sinan has with one of his friends early in the film, shortly after he returns to Çan,. The second is the extended conversation between Sinan, a hoca (religious teacher) from his family's village, and the same village's new imam, who is young, somewhat wide-eyed, and attached to his smart phone.
Sinan's conversation with his friend is typical for two twenty-something Turkish young men. The viewer never actually sees Sinan's friend, and the entire conversation takes place as Sinan keeps walking. He ends up in a kiraathane (coffeehouse) in downtown Çan. The second conversation is initiated when Sinan encounters the hoca and imam trying to pluck apples from a tree on a hillside above his grandfather's village. They then engage in a twenty-minute conversation that covers a range of subjects, from religion to modernity, as they saunter along.
Both dialogues are interesting not just for their content. The movement and physical position of the characters while the conversations take place is also worth noting. Both dialogues begin on a hillside overlooking the community, and as the conversation takes place, the characters move downward, into, and across the community of which they are a part. The conversations conclude in the public gathering place for men in provincial Anatolian society (or in city neighborhoods that have remained more traditional) — the kıraathane.
But closely dissecting the dialogues' content will require the DVD, so they can be watched repeatedly. It should be released later this year, maybe at the end of the summer, so until then I have to wait before venturing into more in-depth comments.